For years Collins has specialized in the manufacture, inventory and delivery of standard replacement control valve trim and accessories.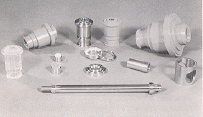 These parts are manufactured to standards exceeding those of O.E.M. parts -- i.e. stem finishes of 3-4 microinch-roller burnished. For applications requiring the handling of corrosive products, trim and accessories are available in exotic materials -- as well as (standard) stainless steel.

We can deliver parts in hours or days -- parts that routinely require weeks or months to obtain from original manufacturers. Our convenient location, in the center of numerous Gulf Coast petrochemical complexes, numerous Gulf Coast petrochemical complexes, reduces our delivery time on every order.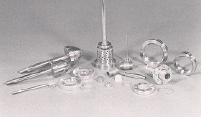 Collins can provide a specialized inventory of replacement parts -- as you need them. We can maintain an inventory of custom parts just for you. Replacement parts can usually be on their way to you within a matter of hours.

If you need to increase performance in your own individual processing situation, Collins can offer you parts with custom modifications. The cost of custom-modified parts is usually no more than O.E.M. parts.